Lately I have gotten really excited about having a baby girl! I have a million things I want to make for her, and I've shorted my list to two really wonderful projects. I've started both of them.
The first project is a mobile. I first got my inspiration from an Etsy shop called
Gifts Define
. I think I found them on
Lay Baby Lay
or maybe Pinterest. I really loved the idea of a mobile made from felt, but of course I thought, "I could make that." Felt is so fun to work with, and I really enjoy the design and embroidery process. At first I thought I would design my own animals, but then I found
these awesome felt woodland animal
patterns on Aimee Ray's Etsy store
Little Dear
. I just had to have them!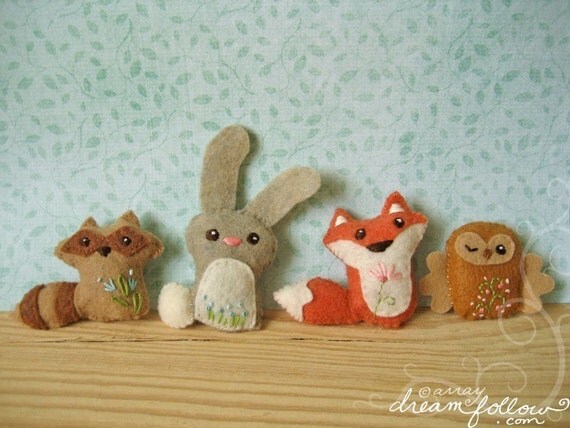 I am so in love with the little fox that I could just cry. Haha, pregnancy hormones. The cool thing is, I was reviewing some embroidery stitches last night in one of my favorite "how-to" books, Doodle Stitching
, and I noticed the book was written by Aimee Ray. Kinda cool!
So far I have made two animals – the baby owl and the snail.
I'm not super happy with how they have turned out. I'm frustrated with the size of the pattern (I need to get to a copier and increase the size of each one) and with the tracing/transfer process of the patterns onto the felt. I've tried using fabric pencils… they don't really work. Sharpies work but are messy. Has anyone ever used one of those "disappearing ink" markers on felt before? Or maybe I can pin the pattern to the felt and cut around it?
The second project is an embroidery sampler that I bought years ago from Alicia Paulson over at
Posie Gets Cozy
, one of my very favorite blogs. I've actually bought three felt Christmas ornament kits from her over the years, too, and I've never started any of them. Ha. But finally, I started one of her projects on Saturday night… the
Daisychain ABCs Crewelwork Sampler
. And now you can drool over how simply gorgeous this thing is. Photo is from Alicia.
I'm four letters into it – N, O, S, and T. I didn't start with A because the fly stitch looked intimidating, and I didn't want to screw up the first letter. N looked like a nice place to start, all backstitch and French knot, then O was easy (just a satin stitch). S has been my favorite so far. T was a bitch. I think I might do an entire post about T because it was that bad. Stupid long and short stitch, ew.
So that's my baby update. If you want to see baby girl's Pinterest board with all my decorating ideas, you can visit it
here
.